A Large & Startling Figure

The Harry Crews Online Bibliography


Essays

Crews has been a regular and prolific contributor of essays, interviews, and non-fiction to magazines as diverse and popular as Esquire, Penthouse, Playboy, Playgirl, and Sport. In July 1976, Esquire published the first of 14 essays for the monthly column "Grits" in which Crews explored themes leading to the book-length memoir A Childhood: The Biography of a Place (Harper & Row, 1978). Most of these non-fiction works are collected in four books: Blood and Grits (Harper & Row, 1979), Florida Frenzy (Gainesville FL: UP Florida, 1982), 2 by Crews (Northridge CA: Lord John Press, 1984), and Madonna at Ringside (Northridge, CA: Lord John Press, 1991).
· Esquire (21)
· Fame (2)
· Playboy (10)
· Playgirl (4)
· Sport (2)
· Southern Magazine (2)
· Miscellaneous (12)
Esquire
"The Car."
Esquire 84.6 (December 1975)
Pages 150-151.
Reprinted in Blood & Grits, Florida Frenzy.
"L.L. Bean Has Your Number, America!"
Esquire 85.3 (March 1976)
Pages 104-106, 153.
Reprinted in Blood & Grits.
"Pages from the Life of a Georgia Innocent."
Esquire 86.1 (July 1976)
Pages 30, 36.
This first essay of the monthly column "Grits" is prefaced by an editor's note: "There isn't much Harry Crews hasn't done in the twenty-odd years since he left Georgia. In the last seven years he has written as many books dealing variously with religion, snakes, karate, weight lifting and hawks. Nobody, not even Crews himself, is sure what will engage his attention next, but he has promised to tell the world about it in this space."
Crews contributed 22 articles to Esquire between December 1975 and September 1980. Most, but not all, of the Esquire articles have been reprinted in Crews's two non-fiction collections, Blood and Grits and Florida Frenzy.
"Pages" contrasts the media-created fantasy of a benevolent South to the real pain of its farm-bound constituents.
"As my boy and I came out of the movie, blinking in the sunlight, it occured to me that Disney and others—the folks who bring you The Waltons, say, or Little House on the Prairie—had managed to sell this strange vision of poverty and country life not only to suburbanites, while the suburbanites stuffed themselves with malt balls and popcorn, but also to people in little towns throughout the south who had proof in their daily lives to the contrary."
"The Wonderful World of Winnebagos."
Esquire 86.2 (August 1976)
Pages 38, 42.
Reprinted in Blood & Grits.
"Building Men the Marine Corps Way."
Esquire 86.3 (September 1976)
Pages 22, 24, 50.
A "Grits" essay not published elsewhere. [Hargraves C22]
"Running Fox."
Esquire 86.4 (October 1976)
Pages 8, 13-14, 21, 30.
This issue of Esquire features two pieces by Crews. The "Grits" essay "Running Fox" was reprinted in Blood & Grits and Florida Frenzy.
"Television's Junkyard Dog."
Esquire 86.4 (October 1976)
Pages 94-97, 126, 128-130, 132.
Crews interviews "Baretta" actor Robert Blake.
"And the thing I learned is this: I am what I am. I'm crazy, I'm hostile, I got a lot of drive, I got a lot of hate, a lot of fear. For most of my life I tried to put that away and be like other people, and therapy didn't change me. But what I learned is and what I want to tell other people whether they're kids or grown-ups or whatever they are: if you can get to the place where you can take whatever you are and use it out there in the world, not try to put it away and say I'm not angry, I'm a good boy, I'm not scared of the dark anymore . . . whatever your problem is . . . instead of going into the corner like a dog and chewing on your feet. If you can take that . . . that whatever is in you, and turn it up and say that's what the hell I am, an' I gotta gfind a way to make that work, then you'll be okay." [128]
Reprinted in Blood & Grits.
For Crews's reaction to the murder on May 4, 2001, of Bonnie Lee Bakley, Robert Blake's wife, see Lynn Elber's "Dark Cloud Follows Life of TV Tough-cop Blake" [The Miami Herald (2001 May 12) Interviews]
"Reminiscences of a Blind Muleman."
Esquire 86.5 (November 1976)
Pages 46, 48, 52.
An essay not published elsewhere.
"A Small Boy on the Floor, Listening."
Esquire 86.6 (December 1976)
Pages 51, 54, 58.
An essay not published elsewhere.
"Temple of the Airwaves: A Visit with Garner Ted Armstrong and The World Tomorrow."
Esquire (December 1976)
Pages 108-110, 166, 169-171, 174, 176.
This issue of Esquire, which also features an installment of Truman Capote's notorious novel-to-be, Answered Prayers, contains two pieces by Crews: a regular "Grits" column (not published elsewhere) and an article about a radio evangelist (not published elsewhere). I haven't read every issue of Esquire, but of the volumes I've cared to read, I can't recall another author whose work has appeared twice in the same issue within a three-month span (and then for a third time, in August 1977). One day I'll bother to confirm if this observation is true for any of the other regular contributors of the time—Taylor Branch, John Gregory Dunne, Nora Ephron, Jim Harrison, Roy Blount Jr.—until then, I'll allow this unnatural occurrence of periodical phenomenon to amaze me.
"Leaving Pasadena—Resume Safe Speed."
Esquire 87.1 (January 1977)
Pages 29, 46.
Reprinted in Blood & Grits.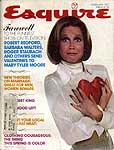 "Tuesday Night with Cody, Jimbo and a Fish of Some Proportion."
Esquire 87.2 (February 1977)
Pages 26, 28, 32.
Reprinted in Blood & Grits, Florida Frenzy.

"Cockfighting: An Unfashionable View."
Esquire 87.3 (March 1977)
Pages 8, 12, 14.
Reprinted in Florida Frenzy.

"Poaching Gators for Fun and Profit."
Esquire 87.4 (April 1977)
Pages 54, 58, 60, 62.
Reprinted in Florida Frenzy.
"The Most Kindest Cut of All: Vasectomy."
Esquire 87.5 (May 1977)
Pages 60, 62.
Reprinted in Blood & Grits.
"The Hawk is Flying."
Esquire 87.6 (June 1977)
Pages 24, 32, 34.
Reprinted in Blood & Grits, Florida Frenzy.
"The Goat Day Olympics."
Esquire (July 1977)
Pages 36, 48-49.
Reprinted in Florida Frenzy.
"Climbing the Tower."
Esquire 88.2 (August 1977)
Pages 38-39.
"Grits" essay reprinted in Blood & Grits.
"The Trucker Militant."
Esquire 88.2 (August 1977)
Pages 82-84, 146, 148-149.
Essay reprinted in Blood & Grits.
"A Day at the Dogfights."
Esquire 91.4 (February 27, 1979)
Pages 56-57, 59-60, 62, 65.
Reprinted in Florida Frenzy.
"Why I Live Where I Live."
Esquire 94.3 (September 1980)
Pages 46-47.
Reprinted in Florida Frenzy.
Fame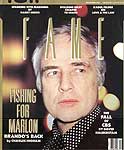 Madonna Goes the Distance.
Harry Crews Goes Fifteen Rounds with the Original Disco-to-Broadway Knockout.
Fame 1.2 (December 1988).
Pages 88-97.
Michael Jeffrey, who supplied the citation information, writes: "It is a great article . . . starts off with Harry hanging out with Jack Nicholson, Sean Penn and Madonna at the Tyson fight. It is basically Harry's version of his interview and time spent with Madonna. I was a huge Madonna fan in the 80s and this has to be the most well written, well documented, honest depiction of a Madonna experience I have ever read."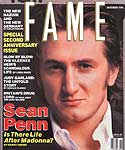 Sean Penn Lives To Tell.
In His First Full Length Interview in 5 Years, Madonna's Ex Talks to Harry Crews about Marriage, Violence, and His New Film "State of Grace".
Fame 3.9 (November 1990).
Pages 92-101.
Playboy

"Going Down in Valdeez."
Playboy 22.2 (February 1975): 108-110, 114, 174-175, 178, 180-182.
In a contributors note several paragraphs long, the Playboy editors write, "Crews has gathered a loyal, almost cultish following. What his readers, old and new, find in each book isn't to be believed. Most of his characters you would generously call freaks . . . What Crews does with these grotesques is make them human, believable and painfully sympathtic. He does it with a direct and lyrical prose style and an accumulation of energy that makes the pages of his books fairly vibrate. You might gather that we are fans of Harry Crews. Yes. We think him among the very best of our novelists.
"Ergo, as he would say, when we decided to do a story on the Alaska Pipeline and the boom towns that enterprise has created, we asked Crews to take the job. He did and he delivered 'Going Down In Valdeez,' which we are proud to publish in this issue." ["Playbill"]
Reprinted in Blood & Grits.

"A Walk in the Country."
Playboy 22.4 (April 1975): 118-120, 128, 218, 220-224.
Subtitle: "[T]here's grit, true grit, and then there're the kind of folks who'd lynch a cute five-year-old."
"'A Walk in the Country' finds novelist Harry Crews taking just that. He and a pair of friends hiked all the way from Georgia to the Appalachian Trail's conclusion, somewhere in the northern woods, looking for book material. They found it, and while the book remains in Crews's typewriter, we proudly preview its first two chapters—that is, the first two experiences that Crews and his crews got into. (Incidental literary note: Article Editor Geoffrey Norman thought that the elephant story sounded vaguely familiar. Indeed, there's a similar anecdote in one of James Agee's letters to Father Flye. Norman figures that Crews and Agee must have uncovered the same incident; after all, how many elephants get convicted of murder in Tennessee?)" ["Playbill"]
Under the heading, "Happy Trails," in the "Dear Playboy" department of the July 1975 issue, the editors published four letters regarding the Crews's essay.
Reprinted in Blood & Grits.

"Charles Bronson Ain't No Pussycat."
Playboy 22.10 (October 1975): 114-116, 150, 152-158.
Reprinted in Blood & Grits. [Hargraves C15]
"Carny."
Playboy 23.9 (September 1976): 96-98, 195-196, 200-204.
"Compared with the carnival that is Washington, a bona fide side show seems tame. We sent veteran weirdo Harry Crews (he had a hinge tattooed on his elbow in Valdez, Alaska, when he was there for Playboy) to report on the speed freaks, con artists and good folk who have sawdust in their veins." ["Playbill"]
Reprinted in Blood & Grits, Madonna at Ringside.

"The Buttondown Terror of David Duke."
Playboy 27.2 (February 1980): 102-104, 164, 197-198, 200.
Reprinted in 2 by Crews.
"The Famous Writer's Cooking School."
Playboy 28.10 (October 1981): 163, 164, 188, 190-191.
Crews's recipe for "Snake Steak" (page 188) is similar to a recipe Crews described in the 1992 Antaeus essay "On Food." Also, recipes from Roy Blount, Jr., William F. Buckley, Jr., James Dickey, Ken Kesey, Norman Mailer, Willie Morris, George Plimpton, Joyce Carol Oates, Tom Robbins, Irwin Shaw, William Styron, Eudoura Welty ("Charles Dickens' Eggnog" sounds especially tasty), and Tom Wolfe.

"The Violence that Finds Us."
Playboy 31.4 (April 1984): 98-99, 186, 188, 190-192.
Reprinted in 2 by Crews. [Hargraves C51]
"Fathers, Sons, Blood."
Playboy 32.1 (January 1985): 110-112, 238, 240.
Reprinted in Madonna at Ringside. [Hargraves C52]

"The Wisdom of the Groin."
Playboy 36.2 (February 1989): 88, 158.
Essay couched in anecdote, of Buck, recent faculty addition to a "great Southern University" stuck flat naked on a rooftop, in a misting rain, outside the window of a would-be liaison with a female graduate student, with a squad of police surrounding the apartment.
Crews's essay, written for the Valentine's Day issue, acknowledges the power of the groin—what drives and brings the sexes together—against the power of the head and heart, which can deceive and disregard questions of humanity. "The knowledge of the groin may want to fuck you a little bit, but it rarely wants to kill you."
"But those words are all language of the head and heart, not of the groin. The groin knows pump and thrust. The groin listens and speaks to blood. The groin demands blood. Blood touching blood and thereby creating blood. It has been the knoweldge and the language of the groin that has kept the race alive. Most of us walk this earth not because men and women wanted children but because men and women wanted each other.
"Love comes through the front door with a rose in its hand, wearing a suit, and smelling of the sweet fakery of bottled perfume. The groin—driven and caught in the demands of its necessary knowledge—comes through the window after having made a journey through the uncertain night."
Reprinted in Madonna at Ringside.
"Being in Nothingness: The Granite Novelist Reflects on the Tender Zone where Flesh Meets Fantasy."
Playboy 40.2 (February 1993): 126-129, 148.
Crews's brief essay—accompanying a pictorial of lingerie-clad models—recounts a recent business meeting over an expensive lunch at a Miami restaurant. When Crews finds his host "trying to buy some work I'd done (steal it, more precisely)" his attention turns to a beautiful woman entering the room. As the woman approaches his table, Crews fantasizes about her marked beauty, transferring to her personality an attitude of indifference to those who would desire her, and placing a look of contempt on her face, making her "close enough to touch and light-years away."
While Crews ostensibly commits the essay to titillating the reader, the subtext is a comment on the potential buyer's desire to commodify Crews's work, and Crews's fantasy illuminates his own attitude and reveals his likely response to the potential buyer: "Eat your heart out."
Playgirl

The Unfeminine Mystique.
Playgirl 7.7 (December 1979).
Pages 124-125.
Reprinted in Florida Frenzy.

Jerry Falwell: Reverend of the New Right.
Playgirl 9.2 (July 1981).
Pages 21, 22, 32.
An essay not published elsewhere.
Man Talk.
Playgirl 10.2 (July 1982).
Pages 44-46, 98-99.
An essay not published elsewhere.

Mary Steenburgen: Born with the Gift.
Playgirl 11.4 (September 1983).
Pages 12-13.
Crews draws against the driven independence of Marjorie Kinnan Rawlings this profile of actor Mary Steenburgen on the set of Cross Creek in Cross Creek, Florida, where Rawlings had lived.
"She sat there across from me, smiling, framed, against the deep green of palmetto and palm behind her. Stone beautiful . . . I had watched her now for days moving through the rough Florida shrub. Enough to raise a man's attention and make him leave a good home."
Southern Magazine
"The Mythic Mule"
Southern Magazine 1.1 (October 1986).
Pages 21-22, 24.
"What Momma Knows."
Southern Magazine (May 1987).
Pages 48-51, 66-67.
Crews's essay examines the strengths of his mother's character and to the strict code of responsibility, independence, and perseverance, which she kept and trained into him in spite of "an uncertain world."
Reprinted and condensed as "Mama Pulled the Load Alone" in Reader's Digest 132.789 (January 1988): 55-59.
Sport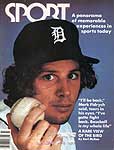 Comeuppance at the Gatornationals.
Sport 65.1 (July 1977).
Pages 38-40, 45.
Subtitle: "For some fans at the second event in drag racing's world championship series, 'Big Daddy' Garlits and 'Cha-Cha' Muldowney were upstaged by a loose-jointed boy in a '56 Chevy and a tattooed bike rider called 'Sugar Bear'."
Reprinted in Florida Frenzy.
Tip on a Live Jockey.
Sport 66.1 (January 1978).
Pages 58-62.
Subtitle: "Every day, jockey Gene St. Leon gets on a 1,000-pound thoroughbred and risks being boxed in at 45 miles an hour with maybe a dozen hooves pounding up his back because, he says, 'It would kill me if I didn't ride.'"
Reprinted in Blood & Grits, Florida Frenzy.
Miscellaneous
"Teaching and Learning Creative Writing."
Dekalb Literary Arts Journal 3.2 (1969).
Pages 1-16.
Transcripted essay from a lecture delivered to the 1968 Convention of the Georgia Writers' Association. The most thorough presentation in print of Crews's writing pedagogy.
Crews examines why teaching writing to young writers can and cannot be done. A story's form cannot be proscribed by any person except the writer, yet art cannot exist without form. According to Crews, few young writers are willing to accept the idea that "form is a consideration of the head, not of the heart. That is, somewhere in the creative process, the head has to take over and form, rearrange what the heart knows."
Then, through a close reading of D.H. Lawrence's short story "The Rocking-Horse Winner," Crews discusses several points of craft—point of view, the passing of time, the specified and unspecified moment. Crews intends to show that the most "creative" stories have a discernible form. His secondary motive is to highlight the role of the teacher, showing that "Learning craft is necessary, and fortunately it is not impossible to teach."
"Getting It Together."
The Writer 84.6 (June 1971).
Pages 9-11.
Crews discusses the importance of creating a sense of place in fiction.
"One way or another, it becomes obvious that the writer is going to have to deal with those great abstract nouns: love, compassion, pity, honor, and hope. And the only way for a fiction writer to deal with an abstract noun is to render it specific and concrete, because whatever is abstract is antithetical to fiction."
"Place is the toehold for the writer's imagination."
"One Morning in February."
Shenandoah 25.4 (1974).
Pages 90-96.
Reprinted in Shenandoah 35.2-3 (1984): 105-111. Early chapter from A Childhood: The Biography of a Place (1978), what will eventually be ten paragraphs into Chapter 4, starting with, "It was a bright cold day . . ."

"A Childhood in Georgia."
Penthouse 10.3 (November 1978).
Pages 128-130, 134, 220-222.
From "Housecall" (8): "Another view of farm life in America is presented by Harry Crews in the new book, A Childhood (to be published by Harper and Row). Crews, whose recent works include the acclaimed Feast of Snakes, and Gypsy's Curse, examines his hardscrabble past as the son of an impoverished Georgia sharecropper. In "A Childhood in Georgia" (page 128), Crews recalls the night when he got 'on the right side of God and little girls' in the same hour."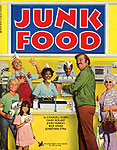 "Truckstops, Whores, & Gravy."
Junk Food.
Charles J. Rubin, Editor.
Dial Press, 1980.
Pages 32-35.
An illustrated anthology about, "the junking of food and America." Crews takes a close look at the American truckstop, what really goes on there.
From "Acknowledgements" (7): "Roger Rosenblatt and Harry Crews were two of the first. And no one—no one—writes letters like Harry Crews. They should be collected."
From "Authors' Credits": "Harry Crews ... [p]refers: 'Nasty chili dogs you get in a tavern, shack, off the road, and there's a big fat mamma in there sweatin, and kids yellin half in English, half in Spanish. It's the home atmomosphere I love, a few flies buzzin, and their Daddy left in a big pickup truck. This all seems like a good idea at the time, but two-three hours later payback is a motherfucker.'"
Quote: "Like the amoeba, that sort of gravy never wears out, never dies. The first amoeba that ever was on this earth is still here because an amoeba reproduces by dividing from itself and then the piece that leaves divides from itself, and so on, always carrying something of the original beast with it. Hot roast beef gravy is the same way. It is immortal, always carrying something of what started it along the trip in the first place. A little cornstarch added here, a little flour there, a few diced and unidentifiable bits of flesh thrown in. Always, and at anytime, anything brown, greasy, and thick goes into the bubbling pot. And that pot never empties. It is as bottomless, and, in its own way, as mysterious as God's love."
Deborah Licklider reviewed Junk Food as "Live, from Gino's" in the Philadelphia Daily News (1980 April 9): "Between the covers of Junk Food is the original work of more than 80 writers and artists . . . The background of the writers is as diverse as their subject matter . . . And there are more establishment [sic] writers too, like Esquire's Harry Crews."
Reprinted as "Truckstops, Whores and Gravy" in River City: A Journal of Contemporary Culture [18:2 and 19:1 (Summer 1998): 73-79], a double issue of writers participating over the last twenty years in the River City Writers Series at the University of Memphis.
"Snake Steak."
The Great American Writers' Cookbook.
Dean Faulkner Wells, editor.
Yoknapatawpha Press, 1981.
ISBN: 0-916242-14-1 Page 100.

This much-expanded, spiral-bound collection of recipes written by American writers was first published in Playboy (October 1981). Under the section for "Poultry and Game," Crews's recipe for preparing snake: "Take one diamondback rattle snake . . . "
"A Stubborn Sense of Place: Forum."
Harper's Magazine 273.1635 (August 1986).
Pages 35-45.
Nine Southern writers are asked to "consider the place of the writer in the new American South." Crews locates himself within a "corrupted dream," not out of defeat or guilt, the legacy of the Civil War or slavery, but from the tireless reception of American culture and the shameless broadcast of Southern values, now debased to cliche.
"Since I'm not a politician or a social planner, I don't know what the South ought to be. I only know what it has become. It has been corrupted all the way to quaint."
"Madonna Goes to the Fights."
San Francisco Chronicle (31 January 1989).
Page 5B.
Crews writes about Madonna and Sean Penn at the Tyson-Spinks fight. Reprinted in Madonna at Ringside.
"On Food: From a Telephone Interview August 1986 with Betty Fussell."
Antaeus 68 (Spring 1992).
Pages 125-130.
In this transcribed essay, which appears in the special issue titled Not for Bread Alone: Writers on Food, Wine, and the Art of Eating, Crews enumerates his favorite foods, "all the stuff I grew up eating . . . weird shit."
"The Suwannee River: None Prettier."
Forum (Florida Humanities Council) 27.1 (Spring-Summer 1993).
Pages 6-7.
Special issue featuring photography of John Moran and the work of six essayists focusing on the Suwanee River.
Crews remembers fishing with his Uncle Cooter in the Okeefenokee Swamp and learning from him a lifelong reverence for the swamp and the river that carries its water to the Gulf.

"A Lesson in Desperation and Stupidity."
The Oxford American (October-November 1996).
Pages 47-48.
When Hurricane Elena hits Florida's Cedar Key, Crews's weekend getaway becomes an early morning crisis.
"Swamp as Metaphor."
The Place Within: Portraits of the American Landscape by Twenty Contemporary Writers.
Jodi Daynard, Editor.
W.W. Norton, 1997.
Pages 27-38.
Originally published as "The Suwannee River: None Prettier" in Forum (1993). Essay includes brief introduction by editor.
"And yet, in addition to a prodigious sense of character, Crews also possesses a philosopher's intellect and a poet's sense of detail. 'Swamp as Metaphor,' reminiscent of the tender prose in Childood: The Biographyt of a Place, is a disarmingly candid, moving essay about the Okefenokee Swamp and its tributary, the long Suwannee River."
Hardcover edition available from Amazon Books (paid link)

"Assault of Memory."
Southern Quarterly 37.1 (Fall 1998)
Pages 124-138.
First two chapters of a non-fiction work-in-progress.