A Large & Startling Figure

The Harry Crews Online Bibliography


Video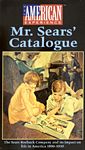 Mr. Sears' Catalogue.
"The Sears Roebuck Company and its impact on life in American 1890-1930."
Obenhaus, Mark and Edward Gray, writers and producers.
Gray, Edward and Ken Levis, directors.
[Television]. "The American Experience" [WGBH Boston], 1994.
Shanachie Entertainment Corp., 1996.
Video: 60 mins.
ISBN: 1-56633-202-8
Crews appears once, briefly, wearing suit and tie, in this documentary on the Sears catalog that appeared as part of the PBS series "The American Experience."
The documentary on video tape is available for purchase (item #WGA207) from WGBH.
Description from Media Resources Center at University of North Carolina at Chapel Hill.
More information available from Shanachie Home Video.
QuickTime movie of Crews' appearance. [2 mb]
The Rough South of Harry Crews.
Hawkins, Gary, dir.
University of North Carolina Center for Public Television, 1992.
Video: 54 mins.
Gary Hawkins, who currently teaches at Duke University, won a 1992 regional Emmy award for The Rough South of Harry Crews, commissioned by UNC-TV. Hawkins also directed a film about Southern author Larry Brown, The Rough South of Larry Brown.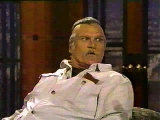 The Dennis Miller Show.
Miller, Dennis, host.
[Television]. 1992 February 4.
Guest appearance. Kris Gilpin writes: "Crews comes out with mean-looking, very intense eyes, staggering. 'I got motorcycle-karate-football wheels so I walk funny,' he says, wearing a white hunter's-type jacket, with an outrageous black mohawk, white goatee and sideburns, his head shaved between the sides of the mohawk and his sideburns. Miller says, 'Interesting haircut there, Hare. Looks like Gabriel in the first Genesis tour.' The crowd laughs. 'This is Freak the Citizens Month,' Crews replies. Later, he shows the hinge tattoo he has inside an elbow, which he claims someone did after he'd tied one on." [Kris Gilpin, in correspondence]
QuickTime movie of Crews talking to Dennis Miller about his "'too and a 'do". [3.4 mb]
The Indian Runner
Penn, Sean, dir.
MGM/UA Home Video, 1992/1991.
Videocassette: 127 mins.
Two brothers, one a cop with a wife and child, the other a Vietnam veteran who lives his life breaking the laws his brother has vowed to uphold, cope with brotherly love, conflict and the pursuit of dreams. Originally inspired by the Bruce Springsteen song, "Highway Patrolman." Starring David Morse, Viggo Mortensen, Charles Bronson, Dennis Hopper, Patricia Arquette. Sean Penn's first film as director.
Crews, who appears in the early minutes, plays Mr. Baker, a bereaved father who sings/howls for his dead son.
About the film, Kenneth Turan, in an The Los Angeles Times article ["Runner: Penn Bows as Writer-Director." Calendar (1991 September 20): F6], writes:
"Though he has been quoted as saying, 'the thing that interests me now is the idea of compassion,' Penn's heart is clearly with the bad boys who take no prisoners and leave compassion for the puny and feeble. What with casting Charles Bronson and Dennis Hopper in supporting roles and using novelist Harry Crews (very effectively), in a cameo, Penn has turned his flim into a veritable Bad Boys Convention, one where women's parts are given the shortest of shrift and decent folks of both sexes are portrayed with condescension that borders on contempt."
Available from Amazon in VHS & DVD formats.
Harry Crews: Blood and Words.
Schowalter, Wayne, dir.
Wayne Schowalter Productions, 1983.
Video: 52 mins.
This interview documents Crews during a bleak period in the novelist's career. Following the release of A Childhood, Crews was employed by film industry to write several screenplays—a distasteful, largely unsuccessful chore. Crews also questions his committment to writing in the face of critical reception. His reading of a chapter from A Childhood is harsh and closer to the bone than more recent recorded readings.
"This live-action video is a discussion with Southern novelist Harry Crews. It is constructed of footage taken of Crews at the Conference on Southern Literature and of personal interviews with him . . . This presentation shows that Crews is a humorous, honest, and intellectual indiviudal with profound insights into the world of novelists. It is his personality that makes this video interesting." The reviewer rated the video three stars. [Murphy, Paula C. "Harry Crews: Blood and Words." Video Rating Guide for Libraries 3.4 (1992 Fall): 143.]
This video is available from The Roland Collection; although not listed in their web catalog, it is available by contacting Roland directly.
The Late Late Show with Tom Snyder.
Snyder, Tom, host.
[Television]. 1998 March 2.
Tom Graves writes of Crews' appearance: "Bonnie Hunt, the actress, was the featured guest, and she was on about 45 minutes. Harry was on, as most writers are, the last 15 minutes. He and Snyder got on pretty well, I thought—Snyder definitely thought Crews was an engaging guest and made it a point that he would invite Harry back when his non-fiction book is out later this year. Harry told about the Sean Penn/Madonna thing and was very funny telling about his Carny story and the egg-projecting dancer. I thought Harry looked better than I had seen him in anything lately or when he was here in Memphis. His color looked much improved, but that could have been makeup, I suppose, although Harry doesn't strike me as a makeup sort of guy."
An added note to Harry's appearance on the Late Late Show. Robert Blake, the actor on the TV series Baretta, whom Harry interviewed for Esquire in October 1976 ("Television's Junkyard Dog"), was a guest on the Late Late Show sometime in 1997. Listening to the interview, it struck me that Blake, an ex-Marine like Crews, spoke and conducted himself with a forthright manner similar to that of Crews. Self-contained and cautious, Blake was also outspoken, capable of speaking firmly about matters that deeply concerned him. About his youth, Blake said, to paraphrase, that if he hadn't joined the Marines, he would have ended up in jail. The Marines had given him the discipline and the diversion to steer clear of trouble he was otherwise precipitously inclined toward.
In the Esquire interview, Blake expressed to Crews a similar story: "And the thing I learned is this: I am what I am. I'm crazy, I'm hostile, I got a lot of drive, I got a lot of hate, a lot of fear. For most of my life I tried to put that away and be like other people . . . But what I learned is and what I want to tell other people . . . : if you can get to the place where you can take whatever you are and use it out there in the world, not try to put it away and say I'm not angry, I'm a good boy, I'm not scared of the dark anymore . . . whatever your problem is . . . instead of going into the corner like a dog and chewing on your own feet. If you can take that . . . that whatever is in you, and turn it up and say that's what the hell I am, an I gotta find a way to make that work, then you'll be OK."
It's not a stretch for the reader to think that Crews offers Blake's sentiments as a reflection of his own. Likewise, watching the Tom Snyder interview, it struck me that Crews, not Blake, could have been sitting there, speaking with similar convinction and candor.
See also: "Dark Cloud Follows Life of TV Tough-cop Blake" in Interviews.
Harry Crews: Guilty as Charged.
Thurman, Tom & Chris Iovenko, dirs.
Danville KY: Fly By Noir Films, 1993.
Video: 54 mins.
Examines the life and work of Harry Crews. Appearances by James Dickey, Byron Crews, Maggie Powell, Johnny Fieber and William Schafer. Music by Frank Schaap and Byron Crews. Associate Producers: Robert Morris and Latelle Lafollette. Camera and Lighting by Mike Brower and Arthur Rouse. Edited by Tom Thurman and Mike Brower.
In November 2015, the full-length video was made available for streaming on Vimeo: Harry Crews: Guilty as Charged.